How to Address Selection Criteria in 3 Steps
In this article:
Step 1 - Investigation: the position and how to apply

Step 2 - Planning and pre-writing
Selection criteria types
Putting the selection criteria into context
Brainstorming

Step 3 - Drafting and refining
Writing your draft
Editing
(Bonus step 4 - Use our free examples)
Step 1 - Investigation: The Position How to Apply

This stage involves:
Researching the position.
Finding out what is required in your application.

Deciding if you want to invest the time applying, and

Step 2 - Planning and Pre-writing
The planning and pre-writing stage involves:
Identifying the skills you have that are relevant to the position.
Selection Criteria Types
Know what kind of selection criteria you are addressing- this will help you frame your statements.
The selection criteria could be:
Skills and abilities
Knowledge
Experience
Qualifications
Work related qualities
Each type of selection criteria has its own requirements and should be answered according to its type.
Putting the Selection Criteria into Context
What does this mean?
It means understanding why the selection criteria are important in this particular job.
For example, the type of communication skills required for a Customer Service Officer versus a Chief Finance Officer will be very different.

A different level of complexity exists because these roles will be operating at significantly different levels in the hierarchy, and secondly, these roles will be communicating with different people, about different things, in different contexts and by different means.

To put the criteria into context you will use the job description or duty statement to point you in the right direction. If you own the ebook The Selection Criteria Coach there are worksheets inside that will help you do this.
Brainstorming
Brainstorming ideas and examples of things to write about in advance is a lot easier than writing on the fly. It will make your statements easier to structure in advance, and with all the planning processes, make your statements quicker to write and more effective in the long run.
Your brainstorming list should include examples of your actual skills in action and be related to the position (that you have discovered in Step 1, the type of selection criteria and the context of the selection criteria.
For example, a person applying for a Project Manager position, with a middle management salary, that is required to work autonomously and with little supervision, would write a prioritising selection criteria like this:

"The ability to prioritise your own work"
You will notice that the applicant has provided actual examples of what they have done and what they have achieved in the context of the position that they are applying for.

Making this match is essential if you want to make an impression and get an interview.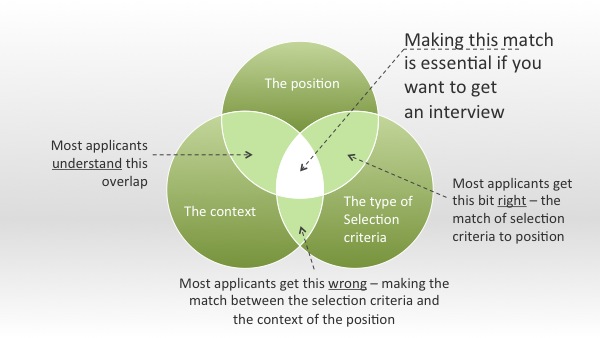 Step 3 - Drafting & Refining

The drafting and refining stages include
Writing your first draft.
Editing your first draft.
Having someone else read over your work.
Writing Your Draft
Writing selection criteria is a lot like writing an essay (remember those?)
Your document will need to have a beginning (introduction), a middle (the body) and an end (the conclusion). Just like with a high school essay, the body is going to be the most important part because it is where you provide evidence for your argument. (And of course, your argument is that you are the best person for the job!)
Selection criteria as a general rule are inescapably full of three things:
1. Facts
2. Opinions
3. Inferences

Most statements addressing selection criteria contain a lot of inferences (make a blanket statement and leave the selection panel to read between the lines or put the dots together), a moderate amount of opinions (sentences or paragraphs without any evidence to back them up, or someone's general knowledge), and few facts.

Good statements addressing selection criteria are the exact opposite. They have lots of facts and barely any opinions or inferences. The best way to pack your statements addressing the selection criteria with facts, is to give solid examples and include measures of success and data if you can.
Editing
All three stages are really important. I have seen selection panel members put applications in the 'no pile' simply because someone has had a couple of spelling errors in their selection criteria statements and this has reflected poorly on their written communication skills. A proof read, or having someone else read the application before hand would have meant this person probably would have gotten an interview.
Use Our Free Examples
More Help With Your Job Application:
How to write better selection criteria
How to research an organisation
Dealing with selection criteria that you don't meet