In this TED Talk, Julian Treasure outlines how to talk so that people are more likely to listen to you.
While it is not specifically aimed at interviews, there are some real gems here that can (and should) be applied to every interview situation.
Talk Outline:
The 7 Deadly Sins of Speaking
Gossip
Judging
Negativity
Complaining
Excuses
Lying / exaggeration
Dogmatism
4 Powerful Foundations of Powerful Communication
Make sure you listen to the talk to hear the explanation of these and how you could implement them)
Honesty
Authenticity
Integrity
Love
Tools that Increase the Power of Your Speaking
Register
Timbre
Prosody
Pace
Pitch
Volume
6 Vocal Warm Up Exercises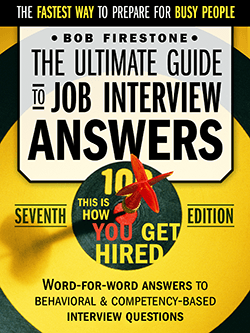 The Ultimate Guide to Job Interview Answers
We didn't write this book, but we are big fans! We recommend it to our customers who have secured an interview and also to those who have had interview failures in the past. The content is up to date and accurate and reflects the preparation you should go through before attending a government interview. The book is also suitable for interviews in the non-government sector. ** This publication is currently discounted, at almost 50% off.
This guide claims to teach you "word for word what you need to say to get hired" and it delivers! Read more here...